Is There a Way to Perform CD Data Recovery on a Mac?
When you use a CD to store information, data sometimes gets deleted or it has scratch that makes it impossible to open your files on the computer.  When the operating system cannot open the file, it might seem impossible to get the information back, but don't break it or throw it out just yet! If you find yourself in this situation and need to get the files back, there is a solution. All you need is the right retrieval tool to perform CD file retrieval Mac.
Stellar Phoenix Macintosh Data Recovery may be used on a Mac computer to locate and regain your files. Once installed, the utility can be used to scan an inserted CD for recoverable files. Just because the operating system cannot read the CD or open the file, it does not mean the file is gone. This is true even if it has been deleted unintentionally or lost due to some other reason. Mac File Retrieval allows you to scan the CD to locate files, preview the results, and choose exactly what you want to recover from it.
Before you can begin the CD recovery, you will need to complete a few preliminary steps.  This includes downloading the install for your Mac computer, installing the retrieval program on it, and inserting the CD into your drive.  Once this is done, you can open the utility to scan the media for any deleted or lost files. With Macintosh File Recovery, it is a simple task to:
Scan a CD for multiple file types.
Preview and search for files.
Select only the items you want to recover.
Save your files to a configured destination.
Below we have provided a tutorial that shows how to perform a quick scan for data retrieval on your CD.  After installing it on your Mac computer, just follow the tutorial below and within minutes you will have all of your files back!
---
Retrieve CD Data in 4 Easy Steps
Please remember that the CD must be inserted first into your Mac computer or a connected external reader before this tutorial can be completed. After the utility has been opened, Mac File Retrieval will appear as shown below. Click on Start New Scan to begin.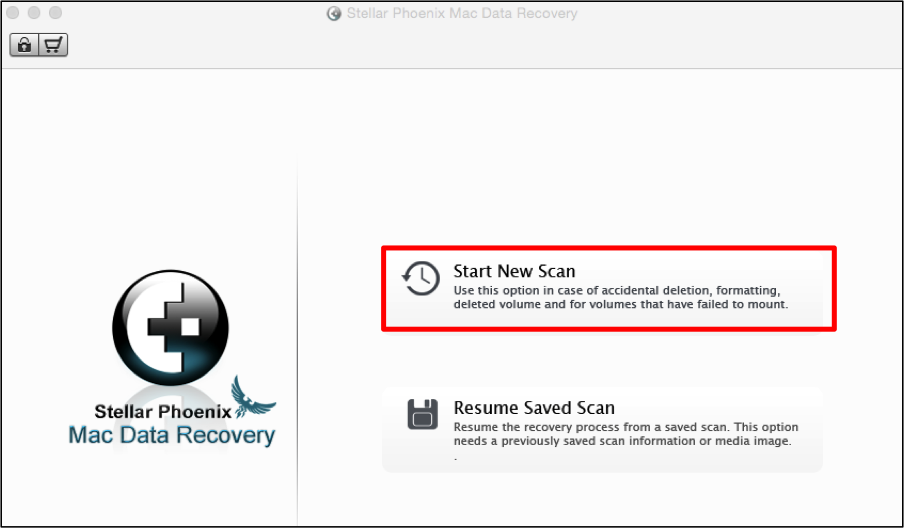 Step 1: Select the CD for Scanning. To begin the recovery, you will need to select CD you want to scan. If it has been inserted into the computer or a connected reader, it will appear in the left panel. Click on the CD and then continue to the next step.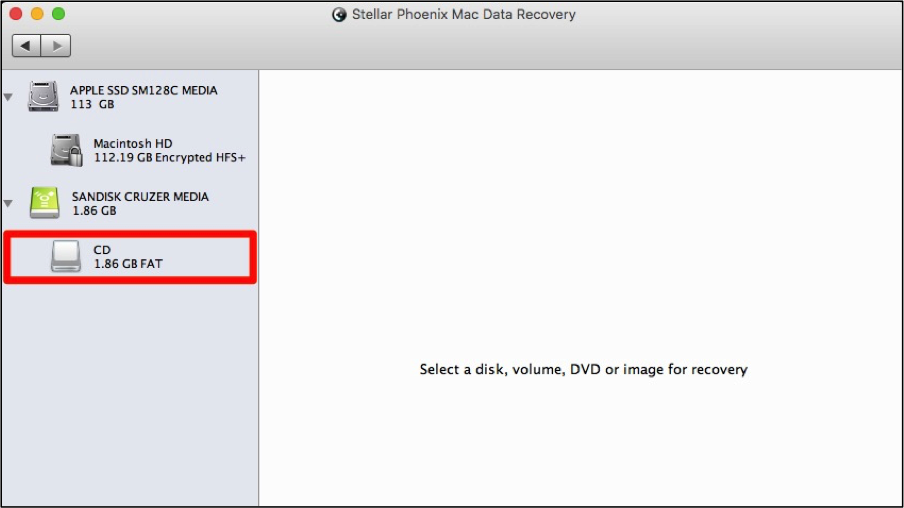 For this example, we will be selecting the Recover Data scanning method and completing a Quick Scan.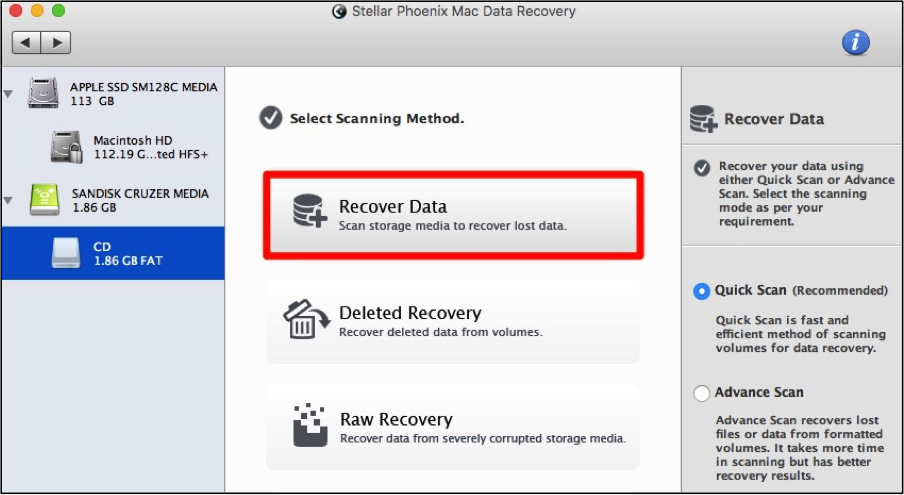 Step 2: Scan the CD for Data. First, click on Start Scan at the bottom right of the utility window to initiate the scan.

Then patiently wait as the utility scans the media for salvageable files. A progress bar is provided to show the progress of this step. An abort scan button is also available to end the scan if you need to exit it and return later. Click OK in the pop-up window to see your results after the scan has finished.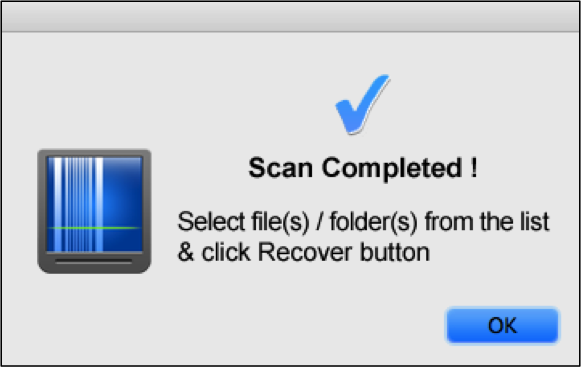 Step 3: Select Files to Recoup from the CD. Above the folder tree, you will see a File List option. This organizes the results by type and format to make it easier to find specific items in the results. Click on this option to begin selecting items for recovery.
All contents can be recovered by selecting CD in the tree view. To do so, tick the checkbox for the CD and all items below it will be selected automatically, as shown below: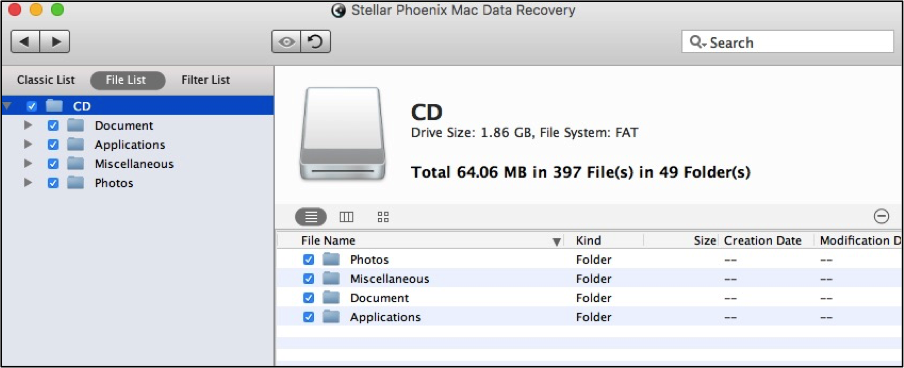 To view formats found for each type, click on the arrow next to a file type in the tree view. The tree view will expand to show each format for the type. Then click on a checkbox to choose an entire file type or individual formats in the results.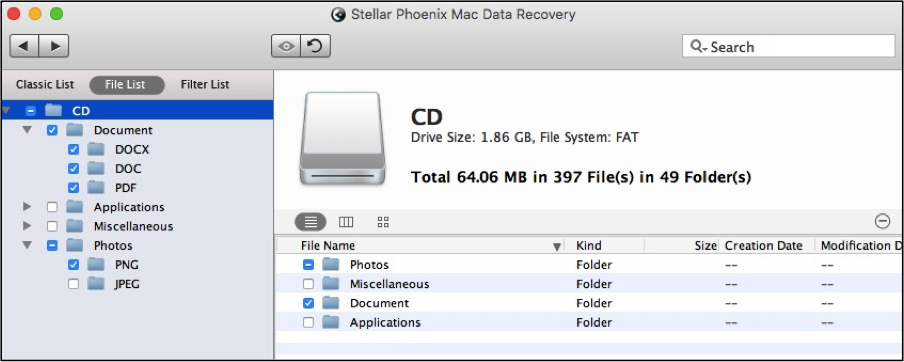 With Stellar Phoenix Macintosh File Retrieval, you can also make individual file selections. To do this, click on a format folder located in the tree view on the left. Each file will then be displayed on the right and can be selected individually for the recovery.

Step 4: Regain Your CD Data. A Recover button can be found at the bottom of the utility. Click on this to choose a save location for the files and finish the recovery.

Stellar Phoenix Mac File Retrieval can be used to locate and retrieve files from storage media such as CD's and DVD's. It can also be used to regain lost or deleted files from a local hard drive or external storage media. To perform CD data recovery Mac, just use the tutorial above to perform these steps:
1.    Select CD for scanning.
2.    Scan CD for files.
3.    Select files to recoup from CD.
4.    Regain your CD data.