How to Safely Perform CF Card Recovery on a Mac
Do you use a Compact Flash (CF) card to store images, music, or other important data? If so, then you may have already experienced an instance where files were lost, deleted, or erased. With CF card retrieval Macintosh, you will be able to restore these items without even breaking a sweat. Retrieval utilities scan an external source to locate items still residing on the physical storage space. As long as the information has not been overwritten, you will be able to salvage it.
By completing a formatted media recovery on a Mac for your card, you can easily retrieve these items or anything else stored on it:
Photos
Audio Files
Archives
Videos
No matter what type of files you store on a card, Stellar Phoenix Mac Data Retrieval can be used to effectively salvage the information. This recovery program performs a deep scan on the formatted media to locate any item still residing on the physical storage sectors of the volume. As long as no significant or frequent changes have been made, you will be able to restore the items by completing the following five steps with Stellar Phoenix Mac File Retrieval software.
---
5 Simple Mac Data Recovery Stages
In this tutorial, we will be showing how to complete a formatted media retrieval. All you need to do is insert the card into your Macintosh and then complete the provided steps:
Step 1: To begin, choose Start New Scan from the main application window as shown below: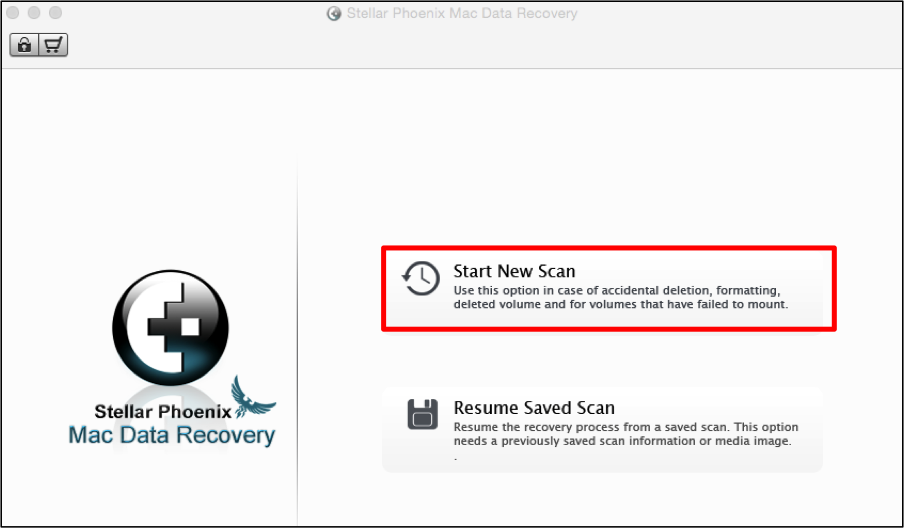 Before you can recover data, you have to select the particular CF card within the utility for scanning. You may have configured a name for the card but if not, it will appear as "No Name" as displayed in this example.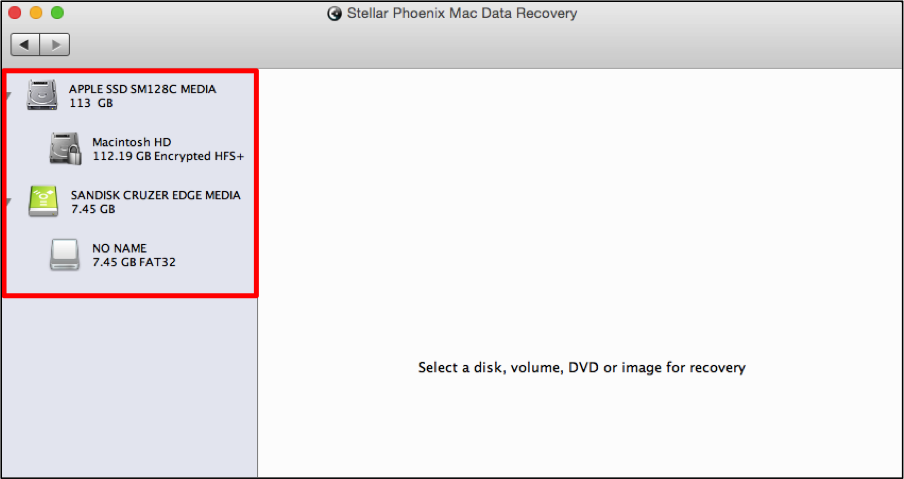 Important: There is no guarantee that all files will be retrievable. This is because every time a change is made, such as adding a new file, there is a potential overwrite for previously removed or lost files.
Step 2: In the next screen, you will need to click on Recover Data and then choose the Advance Scan option. You may use this option to perform a detailed scan of the CF card and locate any retrievable files.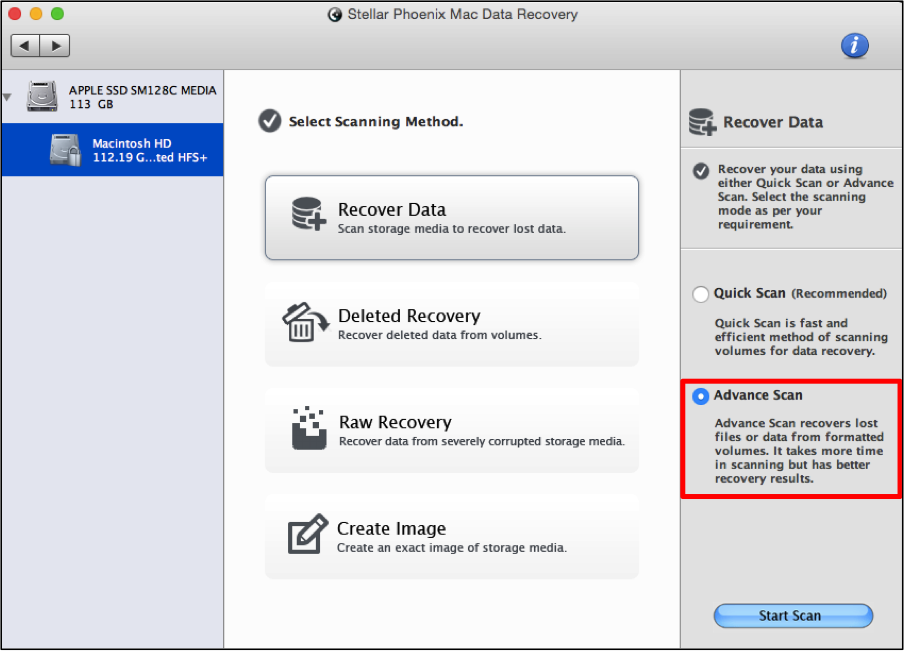 After which, use the Start Scan button to begin locating retrievable files. This process does take a little time to finish and can be expected to take more time for larger cards.

Stellar Phoenix Mac File Recovery will appear similar to the image provided below during scanning. Please note that you can use the red circle to the right of the progress bar to pause the scan.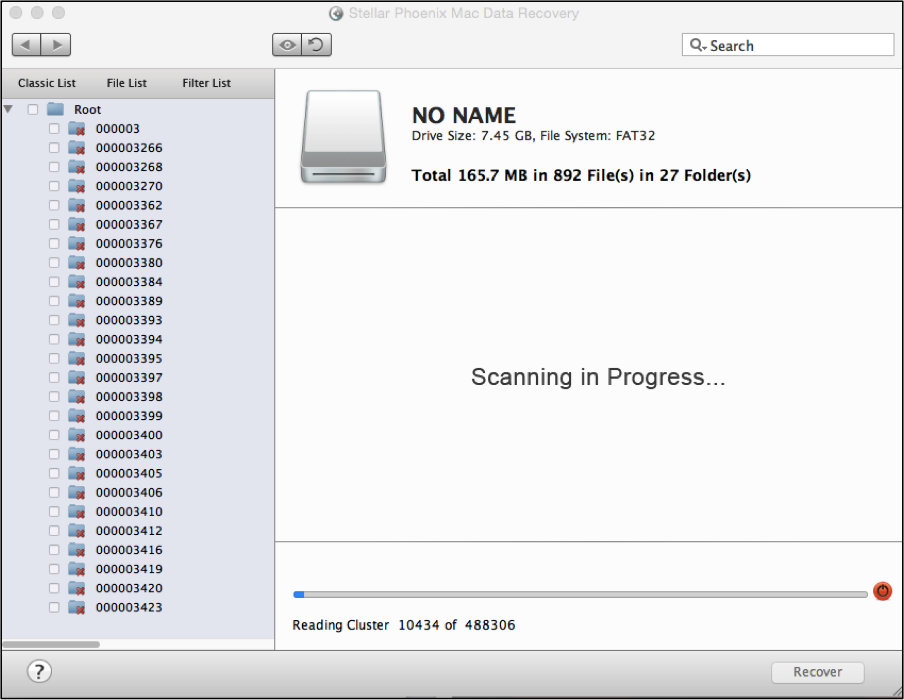 Close the scanning confirmation message by clicking on the OK button and then begin reviewing your retrieved files.
Step 3: Click on File List above the tree view to see all located data broken down by file type as well as format.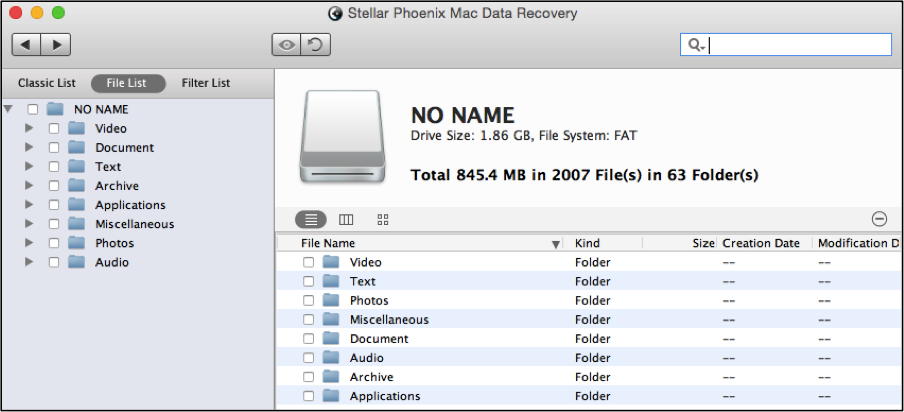 With the Mac Data Retrieval utility, you have the choice to recover all files, just specific types of files, or to select each item individually. To select the entire contents, simply check the box next to the card's name in the utility.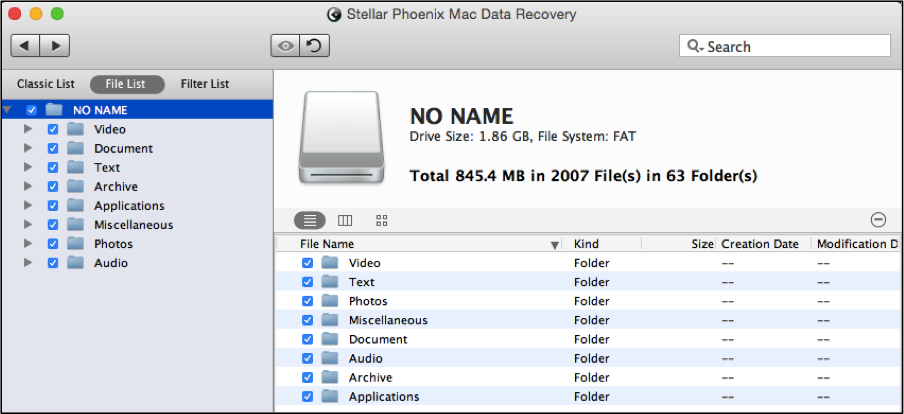 Otherwise, you can expand the tree view and make individual file type or file selections.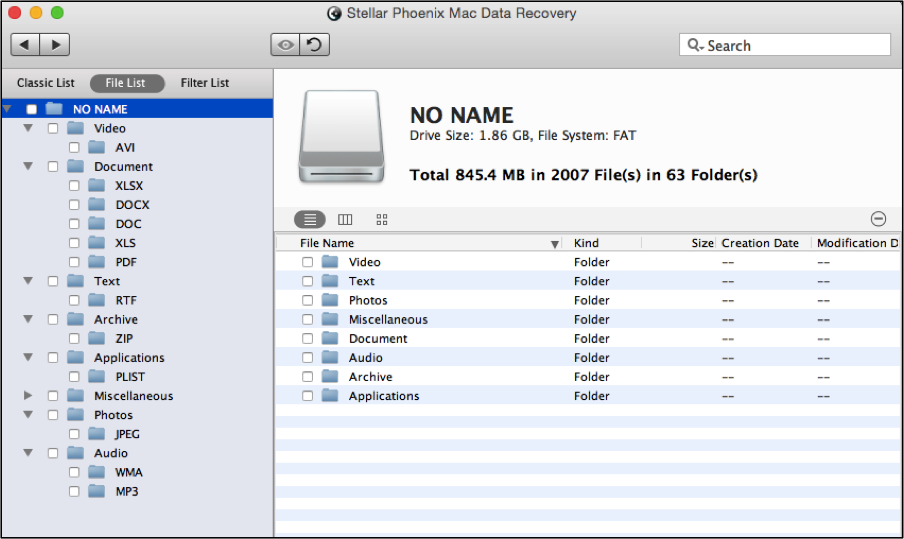 More than one file type can be selected for CF card retrieval. All you have to do is place a checkmark in the tree view next to each desired type (i.e. Photos, Audio, Videos, etc.). In this example, all Document files have been chosen for retrieval.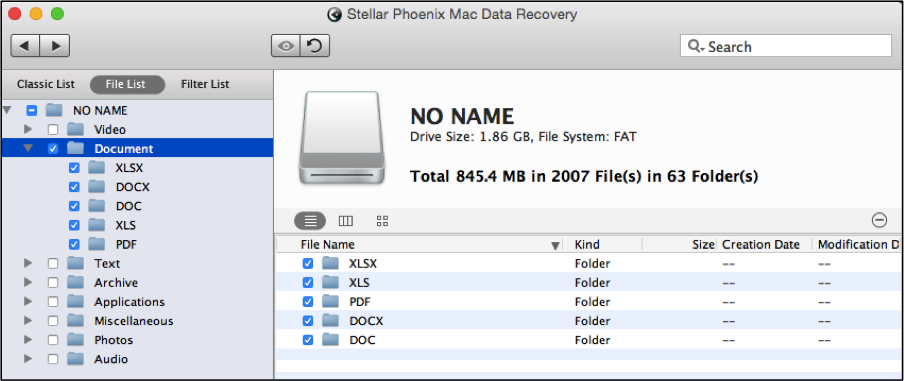 You can also select a specific file format to restore from the CF card such as PNG or JPEG images. First, expand the tree view for the photos directory and then click on the checkbox next to the desired image types. JPEG has been chosen in the example below:

One or multiple files may also be selected to restore from the card by clicking on the appropriate type and format in the tree view. Next, select each desired file on the right side of the application. As shown in the provided example, two DOCX files are chosen for restoration.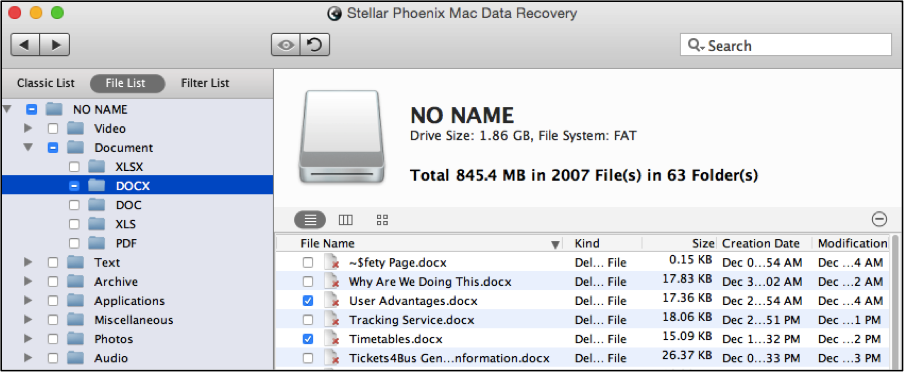 Step 4: The Recover button must be clicked to begin the actual retrieval process.

Step 5: Finally, select a directory for the files to be saved to and then click on Choose in the bottom right corner of the prompt window. All recovered files are stored in a Root folder by the utility, which is placed in the selected save location.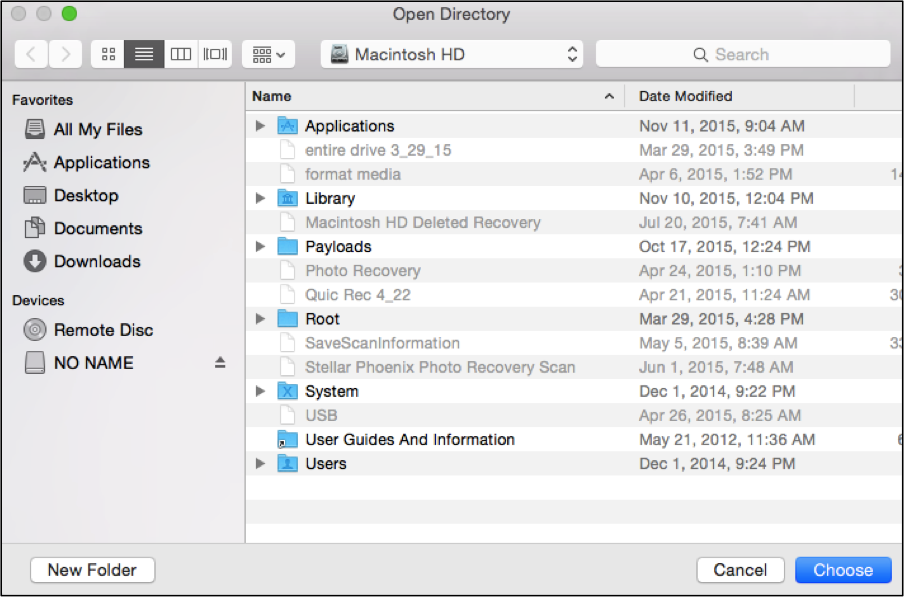 If you need to perform quick CF card recovery, Stellar Phoenix Mac File Recovery software delivers a user-friendly interface and minimal retrieval steps. Simply install the software and follow the steps described above to quickly salvage data. Its easy, reliable, and a complete approach to retrieval on a Macintosh.