Description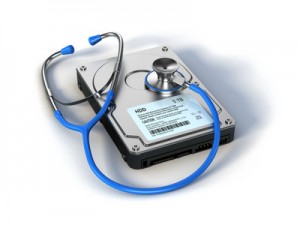 With Stellar Phoenix Mac Photo Recovery, the quicker you act to retrieve these precious memories, the better the odds of salvaging the files. This utility is able to locate any media that has been removed from the operating system's address table, but still physically resides on the hard drive. Stellar Phoenix Mac Photo Recovery may be used for these media types:
Images (PNG, BMP, TIFF, JPEG, PSD, PSP, etc.)
Audio Files (MP3, RPS, AU, MIDI, WAV, etc.)
Video Files (MP4, MOV, AVI, M4V, OGM, DV, etc.)
Stellar Phoenix Mac Photo Recovery provides an easy-to-use, dependable option for accomplishing digital media retrieval on a Mac or external device. You can easily retrieve lost, deleted, or corrupted media regardless of how the information was removed. Media may be salvaged from these among other devices:
Mac Hard Drive
Memory Card
Digital Cameras
USB Storage Devices
Flash Cards
Zip Disks
Mini Disks
iPods
Stellar Phoenix Mac Photo Recovery is a professional tool you can use to restore any media that has been lost, deleted, or maliciously removed. Within only a few minutes, this tool will locate individual media types or all available data for easy restoration. It may be used on higher capacity drives to recover several types of media and to create images of your attached storage media.





---
Mac Photo Recovery Features
The Mac Photo Recovery utility provides several beneficial features to deliver the best experience when restoring located media. With this utility, you gain these handy features: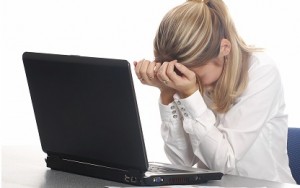 Ability to Add File Headers – Add unique file types beyond standard supported media to customize the retrieval experience.
Create Images – Create an image from your drive or any compatible external device and use it later to restore media files.
Preview Scanned Photos or HD MOV Files – During scanning you will see a preview of each located media file. It also provides the ability to preview and retrieve HD MOV multimedia files used by high definition cameras and camcorders.
Optimized, User-Friendly Interface – Provides an intuitive interface modeled after the Mac desktop that may be resized and is easy to use.
Enriched File Listing Options – Located files are grouped by media type and format to provide a simple approach to locating and selecting items for recovery.
High-Capacity Drive Support – Mac Photo Recovery is able to support larger drives and can be used on 2 TB or larger drives.
Recover Media from Leading Camera Brands – Lost photos or videos may be retrieved for the most popular camera brands including Nikon, Canon, Sony, Kodak, Fujifilm, Olympus, Polaroid, and more!
Save Scan Results – Save your scan results to resume recovery at a later time. The results may be named as desired and are easily accessible by using the Resume Recovery option.
Easy to Use Scan Result Tree – Every located media item is displayed in a tree view for easy identification and separated by media type (video, audio, and photos). As scanning takes place, this tree view displays every file the utility has located and may be used to select the media you want to restore.
You can select to scan for individual media types such as audio files or perform a complete scan for restoring multiple files.
---
Mac Photo Recovery Specifications
Specification
Description
Supported Devices
Any Mac Operating System Based Hard Drive or Mac Supported External Device
Supported Media Types
Photo, Audio, and Video
Supported File Types
Image File Formats: PSD PSP, INDD, JP2, PCT, PNG, GIF, TIFF, BMP, Tiff, JPEG, CR2, CRW, DNG, MRW, ORF, MOS, ERF, NRW, NEF, PEF, X3F, Sr2, SRF, ARW, RAF and RAW.

Video File Formats: ASF, MP4, MOV, AVI, M4V, MPEG, 3GP, OGM, DV, MKV, 3G2, DIVX, M4B, ASX, VOB, MTS, MOI and WMV.

Audio File Formats: MP3, RPS, AU, MIDI, OGG, WAV, AIFF, WMA, M4P, RM, RA and M4A.

Processor
Intel, Power PC (G3 or Higher)
Memory
512 MB
Hard Disk
25 MB
Operating System
Latest Mac OS X Lion or Higher
---
Reliable Photo Recovery for Your Mac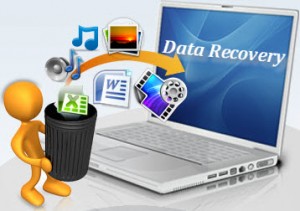 With Stellar Phoenix Mac Photo Recovery, you can safely retrieve one or more lost, deleted, or formatted media files from a Mac-based hard drive or compatible external device including: an iPod, Memory Card, USB Drive, or Flash Card. Stellar Phoenix Mac Photo Recovery delivers an effective solution to any media retrieval dilemmas regardless of their cause for disappearance.
A free trial will allow you to preview what items are available for recovery and see how easy it can be to salvage your data. Please note that a valid copy of the utility will be needed to complete the media recovery. To view retrievable media, simply complete the following steps with Mac Photo Recovery:
Scan the Mac hard drive or external device for media.
Preview and select the media files to retrieve.
Finish recovery by saving selected media files on your Mac.
Stellar Phoenix Mac Photo Recovery offers several customization options to ensure you receive the best results from each performed scan. Whether you need to salvage a deleted media file or restore an entire external device, it is as easy as completing the above steps.
---
How To Use Stellar Phoenix Photo Data Recovery
After you have downloaded and completed the utility install, you will be able to customize file types and quickly begin the recovery process. To begin, simply click on Recover Photo, Audio & Video within the utility.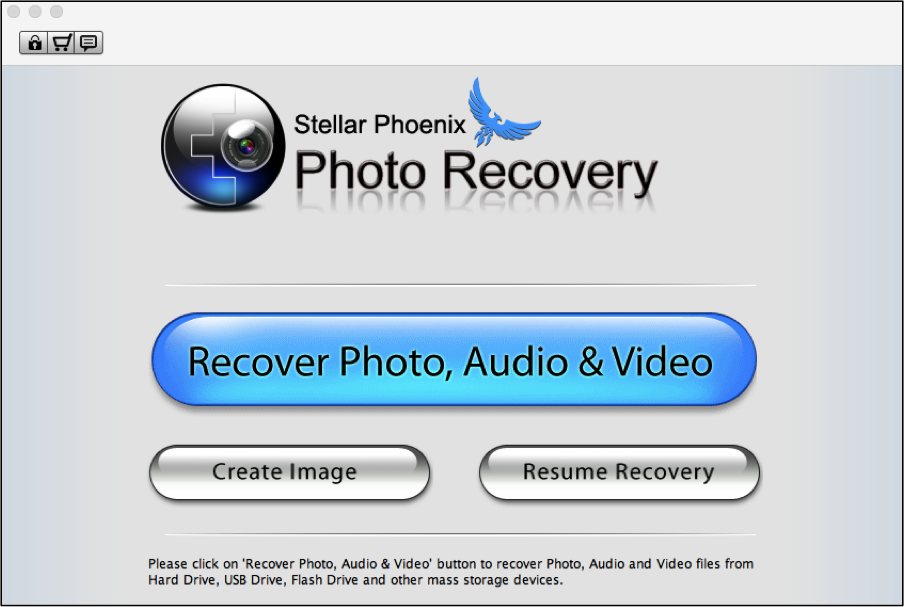 Then choose the drive volume or external device you want to scan and click on the Scan Now Button in the bottom right corner of the screen.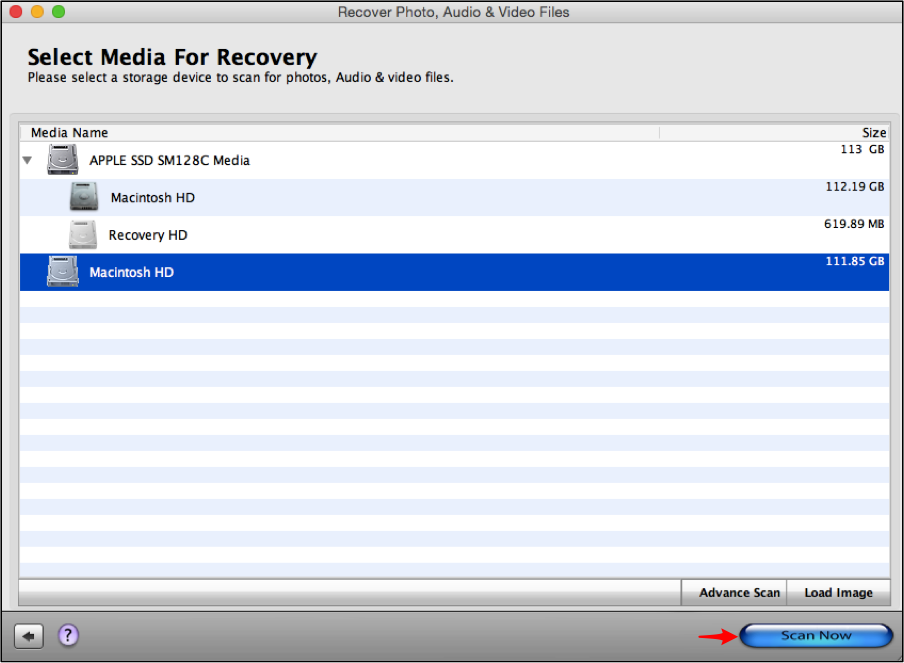 Note: The scanning process will take some time to complete for larger drives and some external devices.
During scanning, you will see the tree view on the left portion of the screen begin to populate with folders based on media type as well as format. At the bottom right of the screen, you will also see a progress bar for viewing scanning progress.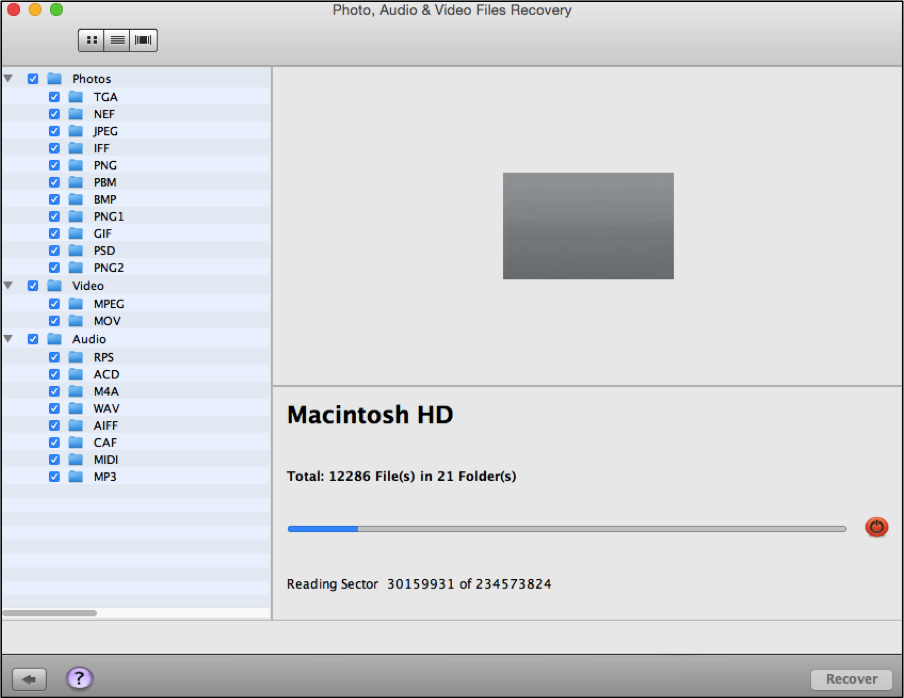 A confirmation message is provided to show that the Mac Photo Recovery utility has completed the scan and located all available media files based on the configured preferences.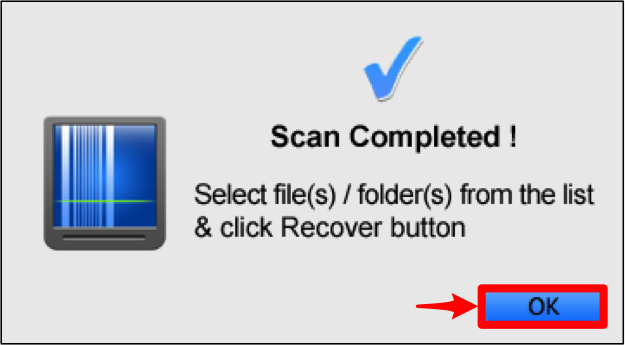 After scanning, you will be able to preview the results and make selections for retrieval. Results are viewable by media type (i.e. video, photos, and audio) as well as by format. A specific media type or format may be selected for recovery by selecting its checkbox or all folders may be chosen.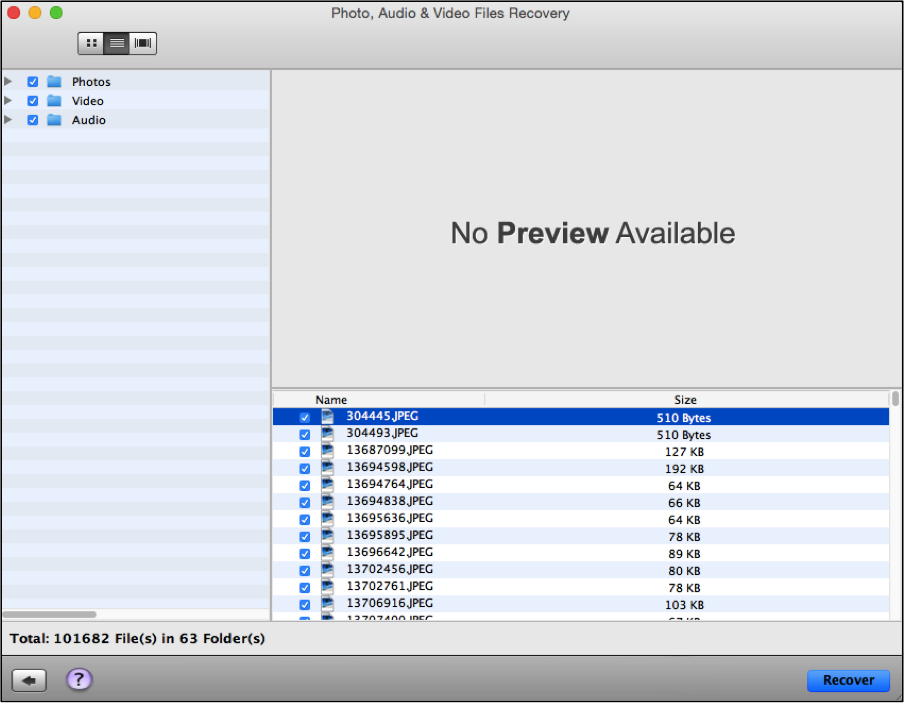 Each folder in the tree view may be expanded to show the format type and you can preview available images and thumbnails in the top right of the screen when selecting files. Click on the checkbox next to each desired item in the tree view or bottom right of the screen to make selections.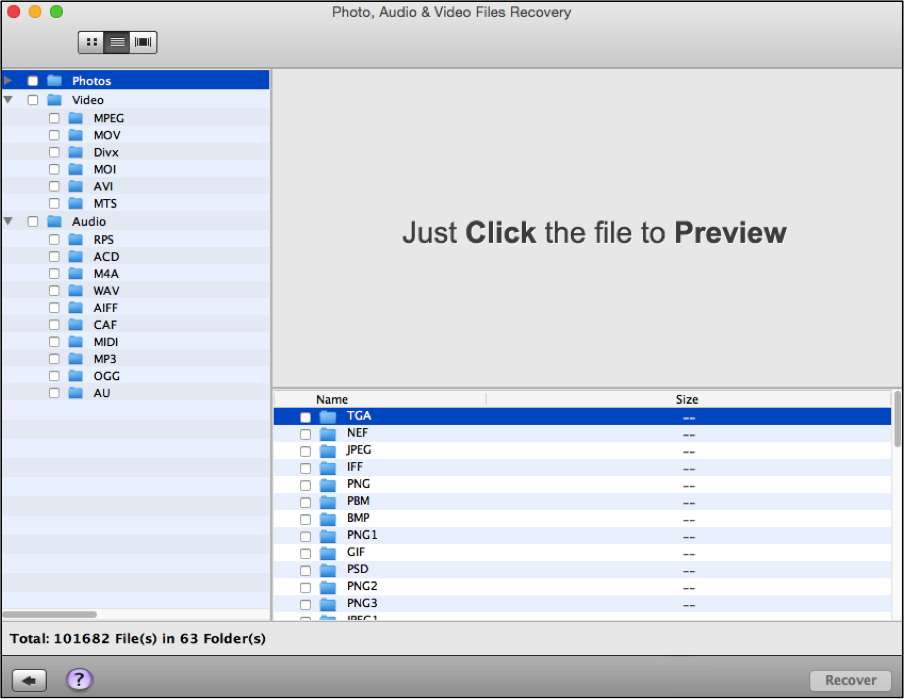 You can select a specific media type such as Video to recover every located file for that type.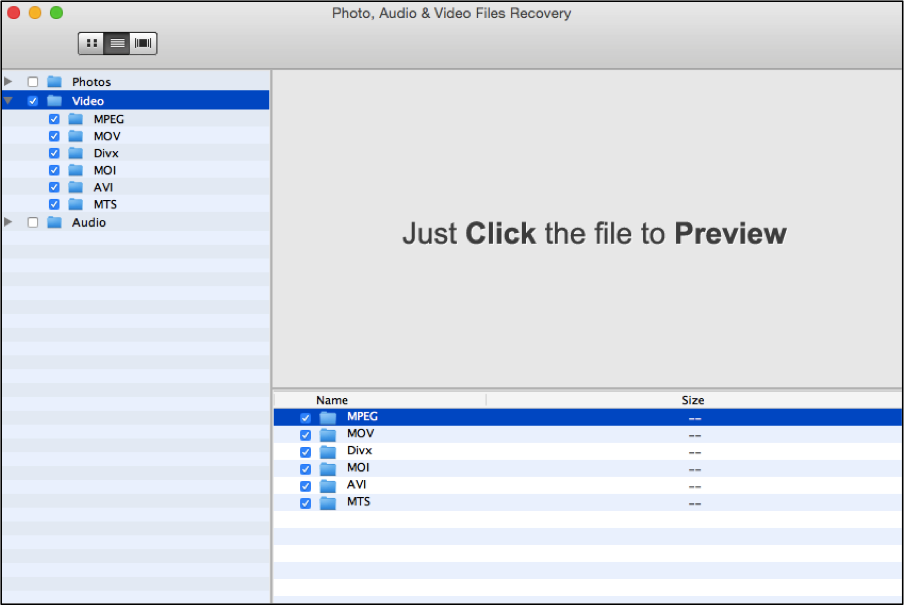 You may also click on a folder name to view or select each format to be retrieved. By expanding a folder, you will be able to make individual selections on the bottom right of the utility: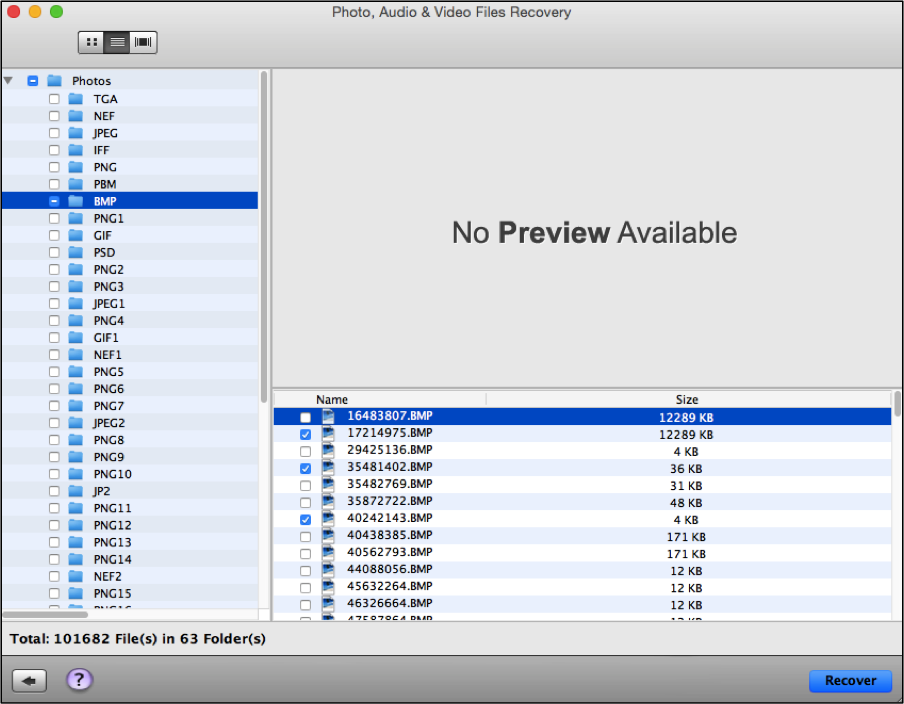 Once you have finished making all file selections, click on Recover to choose a save location for the utility to store the retrieved items.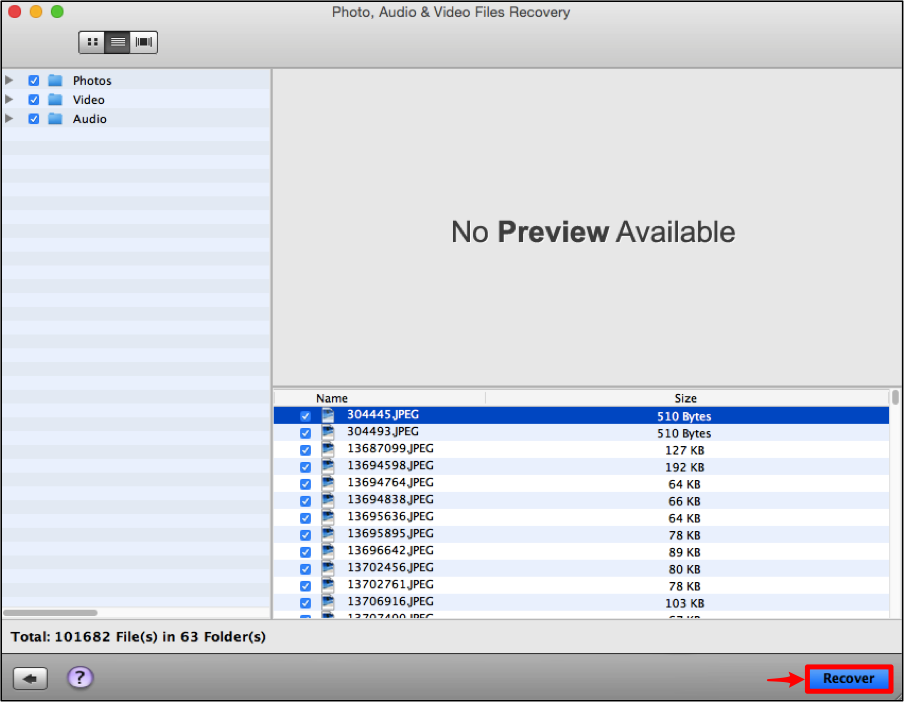 Stellar Phoenix Mac Photo Recovery may be used to salvage individual media files, specific media formats or types, or an entire device. The utility will automatically store each retrieved file to the chosen save location. Don't worry, your precious memories are right there waiting to be rediscovered! All you have to do is use the right tool for the job.